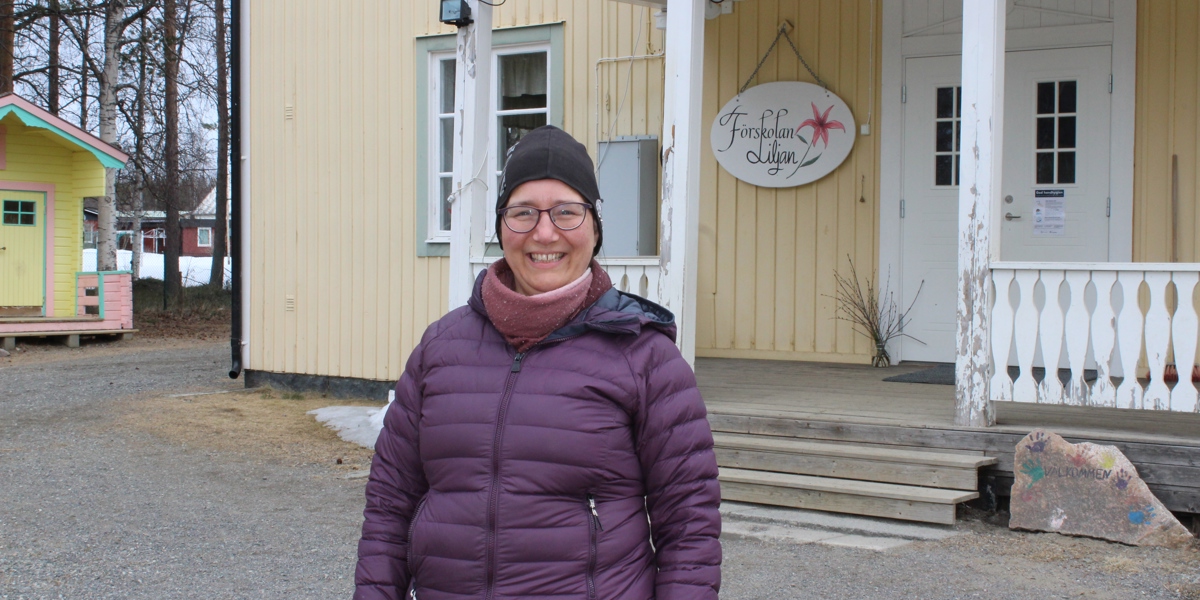 According to Anja, she and her family got infected with a virus when they were on holiday in Sweden in their camper van. The virus attached to their brains, and they could not stop dreaming of one day being able to move to Sorsele municipality. They made up their minds when they found the right property with the Vindel River right around the corner. It was now or never!
How did you find Sorsele municipality?
My husband and I are from Germany. We often travelled through Scandinavia in our camper van on our holidays. In 2008 we packed our van for yet another trip to Sweden together with our children Jan and Lea. We went to Sweden to attend twelve house viewings starting somewhere in the middle of Sweden and then continuing up the country. Seen through our eyes, the farther north we got the more beautiful the nature around us became. Because of the cold and the lack of sun, I really had no intention of living this far north. But when we came to Norra Örnäs for a house viewing it was love at first sight! In Örnäs we found everything we were looking for - beautiful unspoiled nature, clean water, the Nalovardo mountain, and proximity to the town of Sorsele. The dream of a house in Sweden became a reality for us!
The only issue was that our children were still in school, and I had a good job as the manager of a large preschool in Germany. We decided not to move at the same time. Göhrs, my husband, would move ahead and start up our business: Lappland-Abenteuer. The children and I remained in Germany and went to Sorsele on holidays and during leaves. My heart never left this place, so it was easy for me to move when the opportunity arose.
Tell me what you do in your everyday life and in your spare time?
My main job is our shared business. We mainly have guests from Germany, but also from Austria, Switzerland and Sweden. It is a small business where I manage the contact with the guests and take care of bookings and maintenance of the cottages. Göhrs manage activities such as snowmobiling and fishing, among other things.
I started working at the preschool Liljan a mere two months after my move to Sweden. Carola, the manager at Liljan, had found out that I was a trained preschool teacher and that I had moved to Sorsele. Carola called me to ask if I could do some extra work at Liljan because they needed a substitute teacher. I felt a bit uncertain whether I could do it as I didn't know much Swedish. According to Carola, that was not a problem, and she said the children would teach me Swedish. I was still hesitant, but Carola asked if I could come and visit the preschool on occasion and I couldn't say no to that. When I arrived at the preschool, Carola approached me and gave me a warm hug and said, "I'm glad you're here". I thought, how can I say no, after receiving such a warm welcome. Now I must start working here! Today I'm grateful that I accepted. Now I have one leg to stand on within the commune and working in the preschool has helped me to get into the community and I'm very happy for that.
At first, many things surprised me with the preschool system in Sweden. The children behave very differently to the children in Germany. Here the children are much better at playing on their own. In Germany we must activate the children by telling them what to do. In Germany we have dedicated rooms for sleeping and my first day at Liljan, Carola told me to dress the children for their nap. I thought that was odd, because I hadn't found a room for sleeping. Where were they sleeping and why did they have to put more clothes on? When I realized that they would be sleeping outside in prams I was worried, will they not freeze to death, it's really cold outside! I also worried that someone would come and steal the children. Now I think it is great! The children get fresh air, and they sleep really well outside. I actually think the children are better off here than in Germany. The children are really allowed to be children here. We spend a lot of time outdoors and it is great for the children with the physical activity and the fresh air. In Germany the children are only allowed outside if the teacher wants to be outside. Not every day but only sometimes when the weather is nice and not for the children's sake. Now I understand that there is no such thing as bad weather, only bad clothes. Here there are polyurethane-coated clothes for wet weather. There is no such thing in Germany, and I did not know it existed before I started working with children in Sorsele.
We spend a lot of time outdoors and go for long walks with our two dogs. We both enjoy nature, so we spend a lot of time there. We swim in the Vindel River, and we start as early as the end of May and continue for as long as possible in the autumn. In winter we always buy annual passes for the ski slopes in Nalovardo where we often go skiing. We also have snowmobiles which is fun. Moreover, I like doing crafts and renovating.
What is Sorsele municipality to you?
To me it is my home. I feel well here, my thoughts and my mental state are healthy here. This feels right and proper for me. This is my home now and forever.
Where is your special place in Sorsele municipality?
There are many. One special place is at the top of Nalovardo. Wow, it is so beautiful and grand there! You can see large parts of the Vindel River valley and our house and also how the river winds its way.
Three years ago, we bought a cabin in Laisviken. Now I understand why so many swedes have cabins. It is really cosy! We have no electricity and only water in summer and that gives peace and quiet. We sit by the water's edge and just feel the nature around us. There is a bit of wilderness there too and nature is so rewarding to me.
In what sense does Sorsele as a place help your dreams come true?
We have found our place on earth. Everything we and our guests need can be found here. The water is clean, and you can fish and do many things outdoors at all seasons. At first, we only had guests during summer, but now we have guest all year round. Everything you need is here. What is not here you do not really need.
What would you say to someone who is thinking of moving to Sorsele municipality?
Many of our guests become interested in moving here. We tell everyone that there is no better place to live. There are no large shopping centres but there is no need. Here you can find what you need to achieve a deep quality of life.